We are very excited to announce that our next Open Day is on 15th October.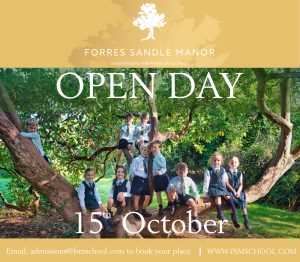 Forres Sandle Manor is an outstanding Pre Prep and Prep school from ages 2 to 13 on the
edge of the New Forest, sitting on the borders of Hampshire, Wiltshire and Dorset.
With a new Headmaster, Mike Stanley, this is the perfect opportunity to come and see our
outstanding facilities find out more about his plans and vision for the future.
FSM prides itself on being full of happy and confident children inspired by a dedicated
team of staff sharing a wonderful sense of community alongside strong pastoral values.
Find out more about places and the opportunities for scholarships by contacting Head of
Admissions Kate Chantry at admissions@fsmschool.com.