Today we celebrated Diwali 2021
, the festival of lights.
Today FSM celebrated Diwali, the Hindu, Jain and Sikh festival of lights.
In the morning, Mr Stanley took Assembly for the whole school and is seen here in a traditional kurta pajama. The children listened to some Bollywood music and heard the story of Rama and Sita and how the festival originated. Children in Year 1 have made some lovely diva candles and chef Matt created the most amazing Indian lunch. We wish everyone in the FSM community a very Happy Diwali.
Our wonderful catering team from Holroyd Howe cooked up the most incredible feast for our Diwali lunch which included:
Spiced Cauliflower & Potato Curry
Tandoori Chicken
Chicken Tikka Masala.
See the full menu here: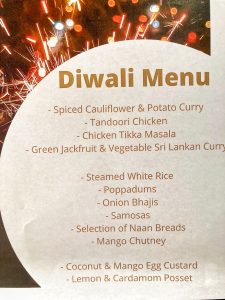 A pupil in Year 5 gifted these beautiful Diva lights to all of the class.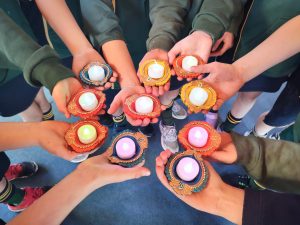 See some photographs from the day below:
You can find out more about our incredible catering team and the foods they prepare
here.