Recently our Year 3s reenacted Roman infantry tactics.
Pupils were given an excellent immersive example of what it was like to be a Centurion by Mr Atherton recently.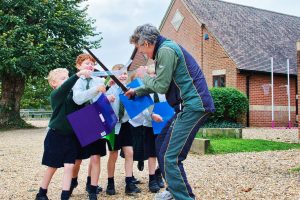 Year 3 Enjoy Wonderful Roman Real-World Learning
They leant different battle techniques and formations, including the defensive testudo; this, through their wooden shields, allowed the Romans to present a 360-degree wall of wood to opponents.
They also learnt about the attacking formation, the wedge. To the legionaries, it's a matter of simple physics. A sharp point drives deep into the body of enemy soldiers, while a thickening mass behind expands to divide their forces further. Just as a wooden wedge can split a log, a human one can smash an opposition force.
All had a great time, and in the end, Mr Atherton was sent running!
See more of the photographs below.
Find out more about our Pre Prep here.