With Remembrance Day in a few days time and FSM joining the nation in a 2 minutes' silence to remember the fallen.
We started the week with all pupils attending a workshop by Mr Toby Stok to learn about the lives and equipment of the soldier in the First World War. They learned about the development of uniforms and personal equipment such as gas masks in response to the rapidly changing, deadly weapons being used against them. They also saw how they spent their time away from the horrors of war, entertaining themselves by making 'trench art' out of shell casings or playing games, like skittles or 'trap ball' with their mates.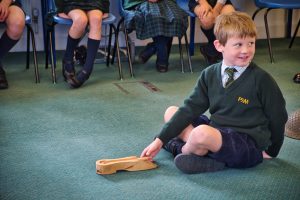 Children came away with a better understanding not only of the life of the soldier in uniform but also of the men wearing the uniform. When standing in silence for two minutes at 11 o'clock on Thursday, they will now be more appreciative and reflective of what so many people in war and conflict have given up for us.
After the workshops, here are some of the things our pupils said:
"On Thursday, I am going to think about all the soldiers who could have been like us but went to war so I could have the freedom I have now." Livi (Y7)
"I have realised that the soldiers had lives just like me and sacrificed their life but were still ordinary which makes them extraordinary." Tommy (Y7)
See the photographs from the workshops below.
We will be hosting our Remembrance Service this Thursday.