This week, the Year 7 and 8s were lucky enough to participate in a fantastic Chaucer workshop, led by Chris wheeler (Headmaster of
Monkton Coombe
).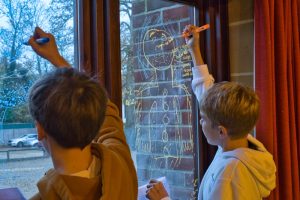 Chaucer's Middle English
After having discussed the origins of the Middle English language, they were tasked with translating the description of the Miller from The Canterbury Tales. Once happy with their interpretation of his appearance, they enjoyed drawing him on the windows of the DHH! The session certainly made the children think about communication and how difficult it is to express yourself when grappling with unfamiliar words.
See more of the photographs below.
Find out more about all our latest news
here.