Today we held our outstanding Pre Prep festive performance of The Christmas Recipe.
Nativity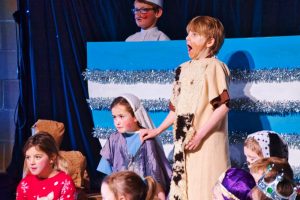 The children treated their parents to a feast of wonderful music, laughter and fun while eloquently exploring the story of the Nativity.
The children's performances were exceptional and were met with applause to match.
Thank you so much to everyone who took part, and of course, Mrs Spottiswood, Mrs Carver, Mrs Dos Santos, Mrs Mumford and all of the Pre Prep team.
Special thanks must also go to Mrs Kendall, Mrs Goodman, Mrs Davies, and all of the Nursery team for their sterling effort in directing the cast's younger members.
It was such a wonderful afternoon and will provide lots of lovely memories. The event was filmed for those who could not be there today, and we will be sending the video out soon.
Thank you to everyone who attended and made it such a lovely afternoon.
See some of the photographs below (we'll be sharing all the photographs soon).
Please do keep checking our Facebook page and other social media for all the latest updates.