We are so lucky to be located on the edge of the New Forest. It's the perfect environment for outdoor learning, particularly in our Forest School.
Recently, our Forest Schoolers were unleashed into the woods armed with an assortment of equipment. The instructions: come up with a plan, and it can be anything you like, so long as you can justify that you are putting into use and developing your skills in at least one of FSM's learning powers.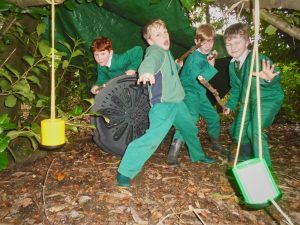 Here are some of the things that the pupils learned and put to use:
Bea… Risk-taking because it is a little bit scary going down the zip wire but I did it anyway
Sophia… Collaboration because we worked together to get the rope high up in the tree
Clayton and Sebbie.. Communication because we helped each other make bases and Bows and arrows
Kate… Grit because it was hard to move the log to use as our step
Ben… Collaboration to build the den and Independence because we all had our jobs to do.
Jack… I took a risk by climbing high in the tree to tie our tarp shelter up
Thomas… Independence because I am trying to find tools for our den
Fraser… Independence because I made my trap by myself. It is cool.
Axwell… Independence and collaboration because I collected things for the team
Elora… Collaboration because we worked together to do our team build of a sea village
Here are some of the photographs:
Read more of our latest news
here.