We recently received a shoutout from the highly respected British painter Sarah Graham.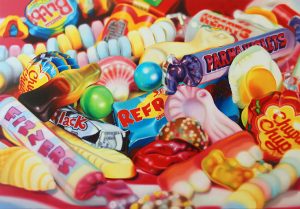 Sarah Graham Art
In 2012, Sarah was commissioned by the British band Kaiser Chiefs to paint the album cover of their singles collection 'Souvenir', which was released worldwide. Her work is also owned by Standard Chartered Bank, which commissioned several pieces by Sarah, including a self-portrait, for their vast global collection of contemporary portraits.
Sarah's work is studied in schools throughout the UK and abroad, and in 2015, she even featured on the GCSE art exam paper.
In February 2022, Sarah appears as a guest judge on the CBBC show 'Britain's Best Young Artist'. She was thrilled to be a part of such an inspiring show for young artists.
Inspired by her work, Year 8 pupils are preparing realistic paintings based on sweets, cupcakes and Lego on canvas!
Sarah is looking forward to seeing their completed works and told our Head of Art, Mrs Dixon-Clarke that she hopes to run a Q and A session with the children in May.
Here is the shoutout to our FSM artists.
Sarah's Instagram is – @sarahgraham_art
Twitter – @sarahgraham_art
Website – https://sarahgraham.info/
See more of our latest news by clicking here.