By Mrs Spottiswood
Year 1 went on the most fabulous trip to Salisbury Museum this week.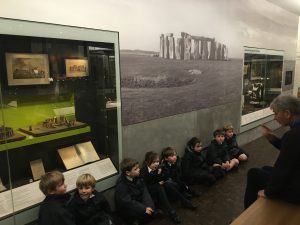 As we arrived, the children were asked to share ʻfive fun facts'. ʻWe know lots more than five', said one of the children, and they proceeded to bombard the activity leader with all their learning including their use of tools; how wood decayed; cave art; the three ages of the stone age; what artefacts are; the role of archaeologists; how they followed the food and cooked it; how and why they made pottery and an awful lot more. Needless to say, I was delighted to hear what they remembered but the three leaders were incredibly impressed. One of our leaders commented to me that usually, ʻThe Stone Age' is a Key Stage Two Topic and that our Year One's were more enthusiastic and knew more than many of the much older groups that they had in.
Salisbury Museum – Handling Artefacts
The children thoroughly enjoyed all the activities which had been organised for them including handling genuine artefacts. Oh, it was gorgeous to see the wonder and awe on their faces as they were told that they were holding items that were tens of thousands of years old, including a mammoth tooth and several stone tools. At the end, we had an ʻexplore' of the Wessex Gallery. Again, the children were so engaged. They kept coming up to Mrs Carver and I to share what they had found and their knowledge of it and this genuine interest and excitement from every single one of them was simply delightful.
Mrs Carver and I were so proud of all of the children. Their behaviour was exemplary, and everyone commented on it. As we left, Owen, one of our leaders said that they had loved having us and that we could come back at any time and that he by no means said that to everyone. More than just their behaviour and super classroom manners, however, the children impressed everyone with their knowledge.
I was asked by the leaders how we planned the children's learning in the Pre Prep, and those of you who know me will not be surprised to hear that I waxed lyrical about the creative curriculum and active learning and how important it was that children had ownership of their learning and that it was a dynamic and responsive two-way process. Of course, I said that in my experience, children are frequently underestimated and that if a teacher is willing and confident enough to follow the lead of a child's curiosity, the potential for learning is enormous. They were kind enough to say that ʻthe proof was in the pudding', and ʻI wish that my children had been taught in that way'.
All in all, it was a super experience and the children had a wonderful day!
See all the photographs here.
See more of our latest news
here.