Today we watched in awe and admiration as our Year 8s took to the stage for our outstanding PSB presentations (Prep School Baccalaureate)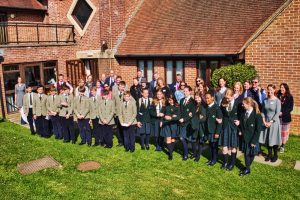 At FSM, this is our flagship event showcasing our programme of learning skills to parents and prospective schools. These propel pupils beyond the world of exam results and give them the guts, resilience, integrity, and tenacity to take on the ever-changing and challenging world of work outside of education.
Our year 8s were nothing short of outstanding; they delivered their presentations to parents and senior school representatives with flare and complete authority, exploring their unique research topics and reflecting upon their results. Most importantly, they took everyone on a journey of their learnings, collaboration and self-reflection, all critical skills in the outside world.
Well done, Year 8s, you have shown beautifully why the FSM PSB method is such a valuable programme to be on.
PSB Presentation Videos
Presentation 1
Presentation 2
Presentation 3
Presentation 4
PSB Presentation Photographs
A huge thank you must also go to our Head of Humanities Mr Atherton and our Head of Geography, Mr Humphreys. Their incredible work with the pupils truly was on display today!
Schools
Thank you also to all the representatives of
Bryanston School
,
Canford School
,
Millfield Senior School
Clayesmore School
and Andrew Gist, PSB trustee. We would also like to thank
West Hill Park School,
Castle Court School,
Walhampton School,
and
Parkside School
who were guests of our PSB Presentations.
Keep checking back to this page, we will be uploading the videos of the presentations soon.
Fore more of our latest news, please click here.