We have some fantastic news about our Year 8 pupil Immy.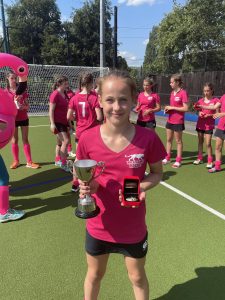 Immy, a top-level hockey player, continues her success in the game. For the third year running, she has again been selected to represent the West of England, the "West Panthers", at this year's U13 UK Festival of Hockey in Nottingham.
U13 Highest Level Hockey
In the last two years, she has played for the Trophy squad (Tier 2), which her team won in 2021 (pictured). However, this year, she has been selected for the Championship Cup squad (Tier 1). This is the highest level of hockey achievable at U13 level.
A huge well done, Immy. This is so well deserved!
The tournament takes place in mid-July, and we will keep you updated on the team's progress.
See more of our latest news here.