We are delighted to be bringing you some exciting news about further staff appointments for September.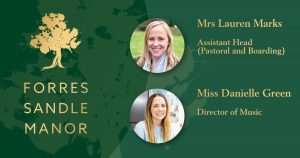 Staff Announcement – Mrs Lauren Marks
We are thrilled to announce Mrs Lauren Marks will be joining FSM as Assistant Head with direct oversight of all pastoral and boarding matters from September. Currently, Lauren is the Assistant Head, Pastoral at Talbot Heath School.
Staff Announcement – Miss Danielle Green
Additionally, we are excited to announce the appointment of Miss Danielle Green as our new Director of Music on a full-time basis. Danielle is an enormously talented musician in her own right and boasts valuable experience from her current remit as Director of Music at St Edmund's, Hindhead.
We are thoroughly looking forward to welcoming them to the FSM Family.
See more of our latest news here.