On Sunday 15 of our boarders packed up picnics and headed out to Monkey World.
Set amongst the woodland of Dorset lies 65 acres of sanctuary for over 250 primates. Monkey World was set up in 1987 by Jim Cronin to provide abused Spanish beach chimps with a permanent, stable home. Today, Monkey World works in conjunction with foreign governments from all over the world to stop the illegal smuggling of apes out of Africa and Asia. At the park, visitors can see over 250 primates of more than 20 different species.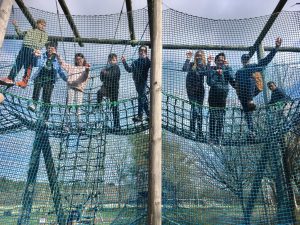 Monkey World
The children enjoyed watching the various primates' antics – and some species were clearly enjoying the opportunity to show off a little, while others were more bashful. We saw some woolly monkeys being fed raspberries, an orangutan climbing to the top of a frame and wrapping itself in a blanket, and a couple of chimpanzees swinging acrobatically in front of a window. There was a delightful moment when a tiny marmoset was fascinated with Rowena's sketchbook, trying to see what she was doing! Jack, Isaac and Ethan were really interested in the background stories of each primate they saw. The children kept commenting that they would like to have a climbing frame set up like the monkeys had, so they were excited to see the playground area where we finished the day, happily occupying themselves for over an hour on the various facilities. A super Day Out!
See all the photographs here.
See more of our latest news
here.