On Wednesday evening, we had our boarding Christmas Prom. It was a masked ball and the boys and girls looked lovely. A huge effort was clearly made to dress to impress! We had party food for supper, followed by a disco in the Front Hall with a chill-out room in the Library. Before the disco started, we had individual and group photos under the Christmas tree.
Christmas Prom Dance Off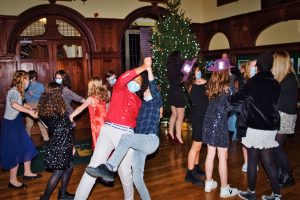 There were a number of prizes for, but not limited to the best dancers and the best catwalk style. The night finished with a huge boys vs girls dance-off.
See the photographs below.
For all the latest news, please keep checking our new pages here.