MATHS WEEK DAY 1
It's Maths Week at Forres Sandle Manor. For Day 1, our Year 7s and 8s have been getting their mathematical brains around a CSI investigation. It was a great example of the application of Maths in a simulated real-life situation.
A staff member has committed a crime at Forres Sandle Manor School, and the pupils had been brought in as Crime Scene Investigators.
They have analysed the evidence left behind to eliminate the suspects one by one until the actual criminal was revealed.
See some of the photographs from Day 1 below.
MATHS WEEK DAY 2
Year 5 & Year 6 took part in our annual Chicken Wire activity where they created a variety of sculptures from birds, to dolphins, to lizards, to hearts, and many more fantastic things. They followed the instructions and used great independence and resilience to produce some quite incredible structures.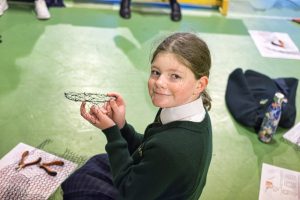 Year 7 continued the hunt for the criminal as they solved the many problems left behind by the crook. They used a variety of skills such as ratio, fractions and percentages to eliminate each suspect one by one.
See some of the photographs from the day below.
MATHS WEEK DAY 3
This morning, as part of Maths Week, there was a whole school numerical Board Games session in the DHH.
Pupils had an excellent opportunity to explore numbers through gamification.
Here are the photographs below.
MATHS WEEK DAY 4
As our mathematical journey continues at Forres Sandle Manor, on Day 4 Years 3 & 4 took part in a Maths Treasure Hunt, with numerical answers to the questions scattered across our school grounds and AstroTurf.
See some of the photographs below.
Maths Activities throughout the Week
We will have lots going on across the week, including a CSI activity, a 'Chicken Wire Activity', whole School Maths Board Games
and a Maths Treasure Hunt, to name a few!
Here are some of our Year 3 getting ready for Maths Week!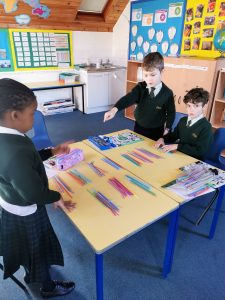 Maths Problems to Solve
Watch out too, as we will be setting some maths problems on our Social Media such as Facebook and in our Newsletter, The Hoot.